A recent study conducted by the ES Research Group, a consulting group which provides sales training and market research, has released the results of a study which evaluates the actual effectiveness social media has on closing sales.
There is endless noise and publicity surrounding online sites like LinkedIn, Facebook and Twitter. The term, "business networking" is loose at best when describing these sites and there's been very little evidence to conclude whether or not the time spent networking on these sites creates actual sales for your small business.
ES Group interviewed 392 sales people to answer the question, "Do The New Social Media Enable B2B Selling?". The results were surprising.
Survey recipients were then asked a single question about each of these tools — "Do these tools help you win B2B sales?" — with available responses of:
don't use;
never helps;
rarely helps;
sometimes helps; or
often helps.
According to the study, claims that these tools "sometimes" or "often help" B2B sales were underwhelming, at best. The responses break out as follows:
LinkedIn…………………………36 percent
Hoovers and OneSource……….33 percent
Jigsaw…………………………..10 percent
Facebook…………………………8 percent
Plaxo……………………………..7 percent
Twitter……………………………4 percent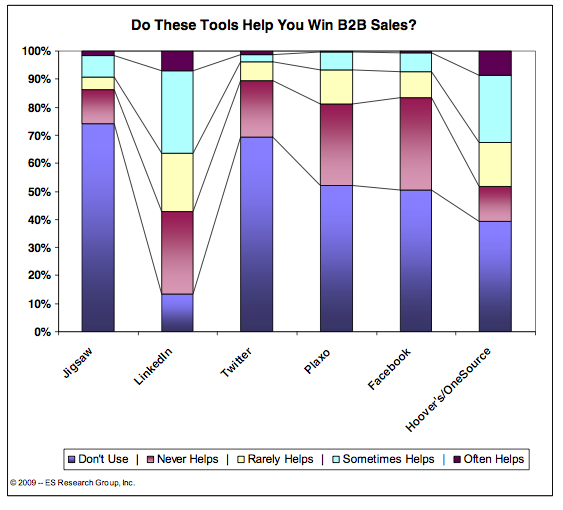 ESR's CEO, David Stein says, "given the sales department's 'quick-fix' attitude toward problem-solving, all the hype and noise around social media — in particular, mostly unproven and unstructured channels such as Twitter and Facebook — will only serve as a distraction. Stein warns of salespeople who misguidedly assume that social media empowerment means they no longer have to focus on Sales 101 — a mistaken view, not unlike perceptions of CRM in its early days, that social media is going to be 'the savior'."
Our Synopsis:
The term "business networking" is being redefined to accommodate people's activity on  social media sites and the sites themselves are not necessarily facilitating profitable business activities. You need to ask yourself for instance, " Is asking everyone in your LinkedIn network to read your nephew's resume business networking?" While we may be socializing with professionals or sharing resume's… while we're at work, the true test of a tool is it's ability to help you do business.
Don't forget the power of sales 101 basics like generating qualified sales leads through referral marketing with people you know and trust.
More Resources Regarding this study: